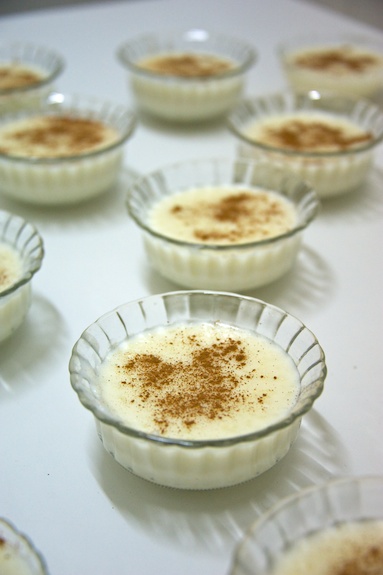 Old fashioned rice pudding makes a cool summertime breakfast, tasty hot weather dessert and is easy and inexpensive to prepare.  Not only that, your gang is going to get their appetites taken care of with no complaints!
Do you have fond memories of things your family ate on a regular basis?  When you eat ice cream, for example, are you transported back to your 5th birthday?  If you smell freshly baked bread, do you think of your grandmother or a favorite neighbor who turned out delicious products that tantalized your taste buds?
Rice pudding does that for me.  Mom's recipe; my favorite childhood story book; cooking with my own children…memories of all these things create comfort in my life.  No doubt your family had traditions that trigger a trip down memory lane for you.
It's all Carol's fault.  grin  She mentioned it and that took me on a search to find out how people make rice pudding these days.  There are a zillion variations.  I'm staying true to my mother's way of doing it.  I only wish Carol and I were close enough geographically to trade dishes to taste test one anothers' creations!  One thing my research showed me is that OLDER recipes yield smaller servings.  It makes sense to me, given the obesity problem we have in the good old USA to offer the older version…You will see that Mom's recipe was not up to 2012 portions!  Another bonus is that in this oppressive heat, there's no need to crank up the oven!
This is offered as a dessert but it makes a wonderful summertime breakfast!  I know this from personal experience.

Rice Pudding, Harriet's Way
3 tablespoons cornstarch
1/3  cup sugar
Dash salt
1/2  cup cold milk
1  1/2  cups milk,  scalded
1  teaspoon vanilla
1  cup cooked brown rice  *By now you know that the Kitchen Police won't cuff you for using white rice.
METHOD:
Mix cornstarch, sugar, and salt.  Combine with cold milk.  Gradually add hot milk.  Cook in double boiler, stirring til thick; cover; coke 15 to 20minutes.  Add vanilla.  Gently fold in the rice til well mixed.  Add a few plumped raisins  *if your family will tolerate them.  Spoon into custard cups, sprinkle cinnamon and nutmeg over the top and place in the refrigerator to chill.
Yield:  6 servings   This recipe may be doubled very easily.
SIDEBAR:  If you do not have a double boiler, don't panic.  Just use a skillet.  Put some water into it and put your saucepan inside the skillet.  If you are rushed for time, just pour the whole business into a bowl and sprinkle the spices over the top of that.  Let your family spoon out their own servings. Regarding plumped raisins, just put some boiling water over raisins in a dish and allow them to sit until they cool.  Drain the liquid and add to the pudding.   END SIDEBAR
This should be a slam dunk for those of you who are at the end of the month and at the end of your provisions, as well.  If you hold an EBT card from WIC or SNAP this should help you to  hold your food budget at bay.  Maybe you are living on a dime or are frequenting your local food pantry.  It could be that you use food commodities.  You might just be at your wits' end, making every effort to feed your family within your means and make something they will enjoy for dessert.  In any case, we hope we are helpful to you.
We want to give a shout out to all those who have got our heart going pitty-pat by joining the Club, receiving a series of messages about cooking.  We also hope those messages have value for you.
Oh, did we mention how much we love COMMENTS?
The FTC wants you to know there are links in this post.  Should they be clicked, resulting in sales, your humble blogger would be fairly compensated.  Please do your due diligence when conducting affairs online or offline.  Always do business with those you trust implicitly.