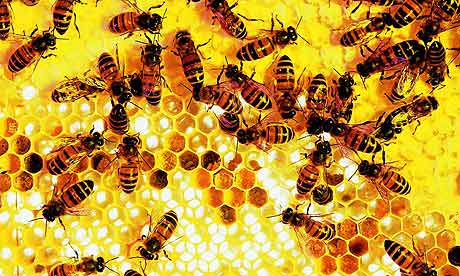 HONEY, can you BEEt the goodness of this golden liquid?
Honey is an amazing food.  Not suitable for babies, it is a wonderful and health supporting treat.  Locally harvested honey is ideal but use what you have and be creative.  Our newspaper  had some great ideas about using honey today, so let's open the honey pot and the  Lincoln Journal Star and see what's there.
One easy-do way to use honey is to spread it over toast.  It's tasty, it is a great way to boost immunity and it is so easy that even youngsters can manage to fix it for themselves. 
Another way to use honey is to pair it with some vinegar, add your favorite spices or herbs and drizzle it over your green salad.
Eateries often feature dipping sauces with honey.  Think honey/mustard or honey/barbecue.  The Journal had a great idea from  Buzz Vance that made my mouth water:
HONEY BARBECUE SAUCE – Buzz Vance

1/4  cup butter
1   cup chopped onion
1    cup ketchup
1/3  cup water
1/4  cup honey  * more for a thicker sauce
2   tablespoons lemon juice
1  teaspoon Worcestershire sauce
1/4  teaspoon black pepper
1/4  teaspoon chili powder
Saute butter and onion until the onion is translucent.  Stir in ketchup, water, honey, Worcestershire sauce, pepper and chili powder.  Simmer for 5 minutes, remove from heat and add the lemon juice.
This has GOT to be a major winner!  The lemon juice would brighten the tomato-y flavor and those ingredients would make for a lip-smacking, finger-licking good dip or sauce for most any meat. 
*Recipes, such as this one, get snipped out of the paper and filed in my "Newspaper Recipes" file, which I mark "MUST TRY ASAP"…after I make it the first time I note whether it is worth a repeat performance.
On the same page in the Journal Doug Hunter offered up his no bake bars, starring honey:
HONEY PEANUT BUTTER PROTEIN BARS – Doug Hunter
1  cup peanut butter 
*Doug suggests natural; users of food commodities or pantries may have "regular" peanut butter.  NO WORRIES…no one will bother the Kitchen Police with this detail.
1   cup honey
3   cups dry, uncooked old fashioned oatmeal
Combine peanut butter and honey in a large nonstick pot and warm over LOW heat until runny and well mixed.  Mix in the oatmeal.  Do NOT cook; just heat enough to stir together.
Press into 9 X 9″ pan.  Cool.  Cut into bars.  Wrap each bar in foil and store in plastic bags or freezer containers.
*This would make great treats to tote to a picnic!  *It could be breakfast on the go, too!

As any user of an EBT card from WIC or SNAP can tell you, we are living in the back half of the month, making every effort to s t r e t c h those food budgets until they snap!  If you have food commodities or food pantry food; if you are just plain frugal and are living on a dime you are well aware of making the food last til more can be laid in.  We hope this little website is helpful to you in this regard.
Our club members are famous for sharing their ideas for frugality and good health.  Feel free to leave your comments on the blog.  We live for comments, doncha know?  grin
Here's hoping you are enjoying the summer months, making wonderful memories with your families and not stressing over what to eat!  Please consider yourselves HUGGED.
The FTC wants you to know there are links in this post.  Should they be clicked, resulting in sales, your humble blogger would be fairly compensated.  Please do your due diligence when conducting affairs online or offline.  Always do business with those you trust implicitly.